Engineer your positive impact
Tractebel Introduction
Tractebel is a global community of 5000 imaginative experts engineering a carbon-neutral future. Through our game-changing solutions for complex energy, urban, nuclear, and water projects, we help our clients create a positive impact towards a sustainable world, where people, planet, and profit collectively thrive.
Tractebel in the Asia Pacific (APAC) has been implemented for several years in the region and offers high-quality services in engineering, consulting solutions, and project management.
With about 150 employees, Tractebel APAC has developed strong local expertise and has the ambition to grow.
Work Environment
We are looking for a BD Manager Energy (Gas/LNG) to support efficiently the expansion of our activities in Energy. You will be under the responsibility of the BD & Sales Manager Energy APAC. You will collaborate with colleagues based in Thailand, Indonesia, Vietnam, the Philippines, and India to detect Gas and LNG business opportunities and develop business relationships with all relevant stakeholders in those ASEAN member states for local and overseas projects.
You will be integrated into the Tractebel Energy community, a worldwide network of Energy specialists keen on sharing their knowledge.

All your missions have to be performed with the highest standards of Quality / Safety / Legal / Ethics.
Missions
Responsible for the formulation and implementation of a Business Development plan, and sales management plan as well as setting goals and achieving targets.

Analyze business opportunities and lead the action for business prospection.

Support multiple concurrent projects across the entire life cycle, including pre-development, tendering, and risk management.

Lead complex sales proposals by coordinating with other international offices and participating in proposal preparation.

Provide input on technical perspective in developing the proposal.

Provide support to the sale team during the contract negotiation and finalization stage

Develop & execute marketing and business plans.

Deal and find an excellent solution for our business.

Develop and maintain client relationships.

Develop sales winning strategy for each prospect.

Monitor and record competitors' activities.

Report to APAC business development organization on a regular basis.
Every day with Tractebel is your chance to make the world more resilient, livable, energised and ultimately more sustainable. To shape and enhance the lives of millions of people. To apply your talent in multidisciplinary teams with boundless creativity. To learn and grow with world-class experts at your side. To leave a game-changing engineering legacy you can be proud of in your community and communities around the world.
sustainable and social impact
Accelerate the transition to a carbon-neutral future for people and the planet we all share.
Work alongside experts who imaginatively challenge convention in the search for solutions.
Join a community where you're genuinely valued and appreciated with leaders who champion you to success.
Benefit from continuous opportunities for learning and professional growth within ENGIE group.
Florian, Hydrogen consultant at Tractebel, tells us about his positive impact​
Let's meet Florian, one of our imaginative experts who makes the world more resilient, livable, energized and ultimately more sustainable.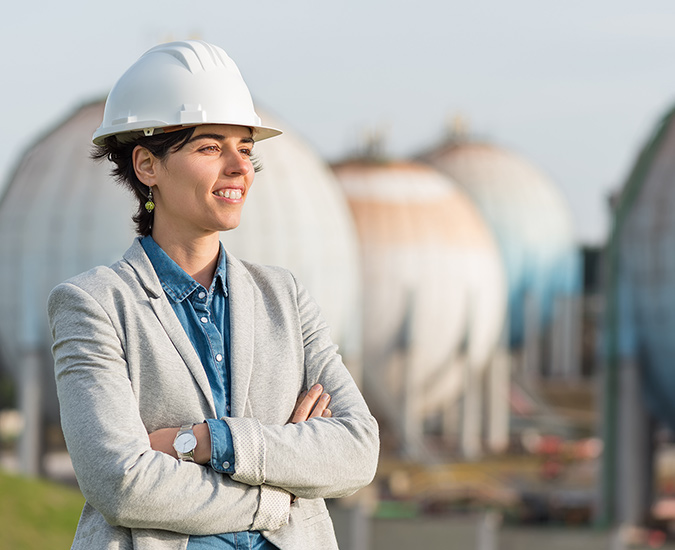 Profile

We are looking for talented and motivated people to create the future of energy. Join a rewarding and flexible work environment that encourages innovation and creativity and help us meet the energy challenges of today and tomorrow.
At Tractebel Thailand, we have built a culture based on trust and respect to welcome all gender. We encourage woman candidate to apply even if you don't fulfil 100% of the requirements set out in the description. We believe our approach set us apart and better prepare our company to answer today's environmental and societal challenges.Make sure your voice is heard. Join us today and let's grow together!
#Respect by Tractebel Thailand
Bachelor or higher degree in Engineering.

Minimum 8 years of business development experience in Gas and LNG sector, esp. for mid and downstream businesses, preferably from an engineering Consultancy company or an EPC company.

First-hand experience in project management or technical delivery, such as conceptual study, Pre-FS, FS, Pre-FEED, FEED, and TDD in Gas Infrastructure and Gas-to-Power is preferable.

Experience in transaction with IFI or ECA is a plus.

Ability to work effectively as a member of an interdisciplinary team and independently.

Flexible working in term of timing and ready to support clients.

Honest, highly committed, and adaptive working attitude.

Autonomous, pro-active, dynamic, and self-motivated.

Fluency in English and other native languages of Southeast Asian countries would be a plus.
Apply
Find your path to positive impact in the sector that's right for you.